So, I'm trying the Keto diet. Which I'm sure you've heard of, since it's all the rage right now. (If you haven't, the short version is that it focuses on a high fat, low carb diet so that you're body burns fat.)
The real reason I'm trying it isn't because I'm trying to lose weight, but because I'm trying to find snacks that are lower in carbs since I have a MAJOR sweet tooth.
I have to say, in this keto-crazed fad we're in, I've actually found some amazing healthy yummy food. Including low carb CEREAL. And ICE CREAM. And BAGELS. YOU GUYS. I can eat all of these again… and not feel guilty!
Without further ado, here is a list of my top 10 best Keto-friendly brands, for those of you looking for guilt-free treats also.
1. Thin Slims Foods: This company is the Holy Grail of Keto. They have low carb bread and pasta, and they're delicious!  They have sweets too but I have a sensitivity to sugar alcohols so I have to limit my intake. (Mission Low-Carb tortillas are also great and you can find them at grocery store.)
2. Quest Cookies and Chips: Quest makes protein chips of all flavors (I tried the nacho cheese which tasted just like Doritos) and each bag contains about 18 grams of protein and only 4 net carbs. I also love their gooey candy bars with chocolate caramel!
The best place to find these is at your local vitamin store. I buy mine at The Vitamin Shoppe because they have a huge variety. Or you can find them on Amazon too.
3. Lily's chocolate: This chocolate is stevia sweetened and has less than 1 gram of sugar, and tastes amazing! It comes in different flavored bars (almond, coconut, puffed rice, regular dark chocolate), chocolate chips,  and peanut butter cups, but my personal favorites are the dark chocolate covered caramels and the chocolate caramel popcorn. You can find their products at Whole Foods, online and The Vitamin Shoppe.
4. Hilo: Hilo makes amazing cheese puffs (spicy hot is my favorite) and chips (I love spicy salsa!) Both of these you can find on Amazon. Some of the grocery stores carry the chips too.
5. Magic Spoon: Ever since I was a kid, my favorite snack was always cereal. I stopped eating it as an adult because the excessive carbs always made me bloat, and I'm so happy I can eat it again! I've tried a lot of the keto cereal brands and Magic Spoon is my favorite.
Magic Spoon comes in 4 flavors: Cocoa (tastes like Cocoa Puffs), Cinnamon (similar to Cinnamon Toast Crunch), Fruity (like Fruit Pebbles) and Frosted (which I don't know how to describe – it kind of reminds me of Carnation Instant Breakfast if you guys remember that.) They come in boxes of 4 and you can order a variety pack of all 4 or 4 of the same flavor. It's pricey ($35 for 4 boxes if you subscribe, $39 if you do a one-time purchase) but you can use code SKINNYCHICK to get free shipping if you do a one-time purchase!
Honorable mentions:
StaySteady: I'm a big fan of plain cereal (like Special K, etc.) because I like to add fruit to it for breakfast, and StaySteady has a plain flavor, Vanilla Almond (my favorite) and Maple Pecan.
Catalina Crunch tastes like Golden Grahams, and you can use code SKINNYCHICK_10 for 10% off your entire order on their site.
6. Halo Top Pops: The reason I reference the popsicles instead of the pints is because of my sensitivity to sugar alcohols. A pint of Halo Top contain about 20 sugar alcohols, which really upsets my stomach, but the pops contain much less. Most grocery stores have them in stock – you can search their website to find them near you.
7. Allulose Sweetener: Allulose is a sugar-free sweetener that tastes just like sugar! I ordered this one from Amazon and I love it. Allulose isn't metabolized by the body, so it does not raise blood sugar or insulin levels.
Honorable mention: Anyone who is familiar with the keto diet has probably noticed that monkfruit is the key ingredient in most sweets, because it's a natural sweetener with no carbs. Lakanto makes a sugar substitute, Monkfruit Classic, that you can find at your local Whole Foods, but it contains Erythritol, which is a sugar alcohol, so I would only recommend it for people who don't have a sugar alcohol sensitivity.
8. Biena Chickpea Puffs: You can find these on Amazon or at some grocery stores. They're only 5 net carbs and delish!
9. Smart Sweets: For anyone who loves candy, these gummy bears only contain 3 grams of sugar per bag, and no sugar alcohols! I love to grab a bag before going to the movies. Most grocery stores stock them in the candy section.
10. PopCorners Flex: These have to be, hands-down, the best keto chips I've discovered. They have the puffy texture of Pop Chips, but minus all the carbs. They come in buffalo, BBQ, and cheddar sour cream flavors. I order mine online from netrition.com because most grocery stores don't carry it yet.
(Also, for anyone who hasn't tried The Keto Box yet,  you can get 15% off a month-to-month subscription box by using code SKINNYCHICK. They send you a monthly box of Keto food products, and you can cancel at any time!)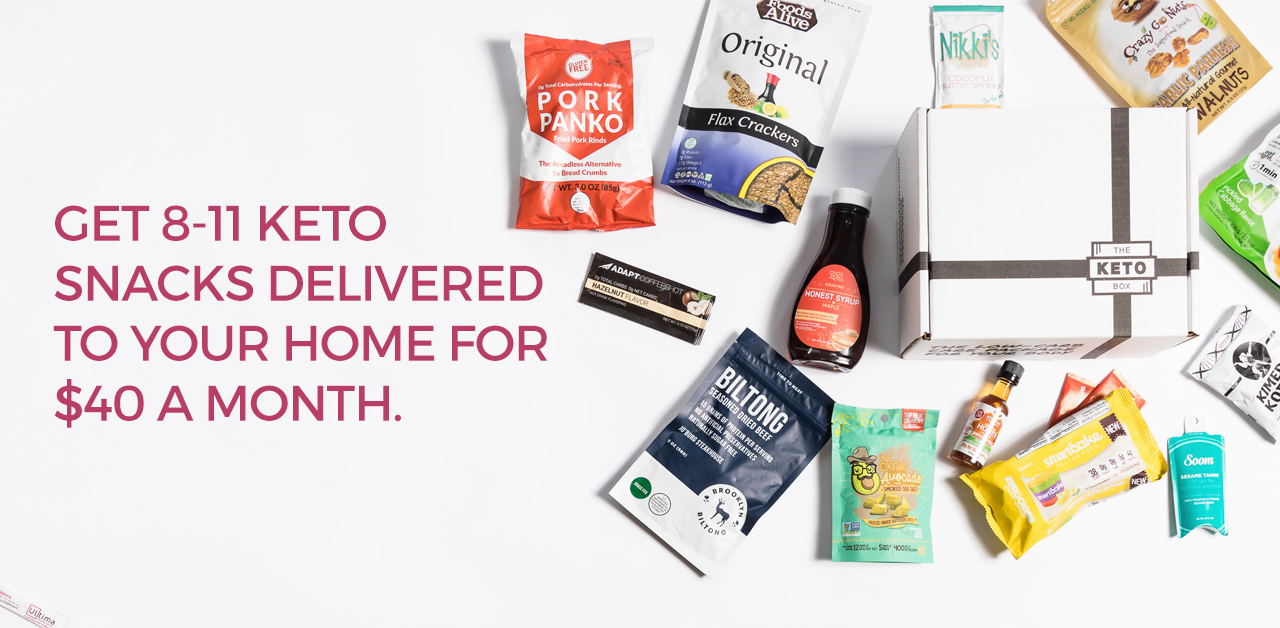 Some of the links in this post are affiliate links. This means if you click on the link and purchase the item, I will receive an affiliate commission at no extra cost to you. All opinions in this post are 100% my own.